Update: Since my first Offshore race I've kept this up to date for crew of other offshore racing programs I've participated in.  Although most of the quotes are from the 2015 Marion to Bermuda race requirements the gear listed has been updated for 2018 ocean/offshore races.  Last updated November 30th, 2019.
---
I took charge of figuring out the Personal Safety Gear Requirements for our Marion to Bermuda race campaign.  Since the Defender Warehouse sale is this weekend I decided to get this done sooner instead of later.  Check the table of contents below or skip that and jump in.
Requirements
Let's dive right in:
3.1.1 – Personal:  Each crew member shall have a life jacket that provides at least 33.7lbs (150N) of buoyancy, intended to be worn over the shoulders (no belt pack), meeting either U.S. Coast Guard or ISO specifications. Life jackets shall be equipped with crotch or leg straps, a whistle, a waterproof light, be fitted with marine-grade retro-reflective material, and be clearly marked with the boat's or wearer's name, and be compatible with the wearer's safety harness. If the life jacket is inflatable, it shall be regularly checked for air retention. Alternatively, each crew member shall have a U.S. Coast Guard approved Type I life jacket equipped with crotch or leg straps, a whistle, a waterproof light, retro-reflective material, marked with the boat or owner's name, which is compatible with a safety harness.
Let's break that down:
PFD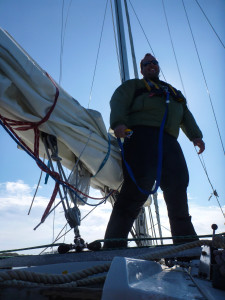 You don't want your PFD to be compatible with your safety harness, you want your PFD to BE your safety harness.  Combined with the 33.7lbs requirement you're either going to be walking around on deck like some weird hybrid Michelin Man/T-rex or you're going to get an over the shoulder Type IV inflatable PFD.
I recommend the Mustang Survival MD3184 (affiliate link): "This PFD provides a minimum of 33.7 lbs of buoyancy when inflated and is designed for wearers over 16 years of age, with a chest range of 30-52 inches (76-132 cm) weighing over 80 pounds (36 kg)."  I've had mine for 4 years and I tested it out in a pool last weekend.  I love mine and would buy another.  Defender: $239.99
The non-hydrostatic version is the Mustang Survival MD3084.  I suggest spending the extra few bucks on the HIT vest; this is ocean racing, you might get soaked by a wave.  We had a MD3084 inflate during a gale while the wearer was on watch safely in the cockpit.  You don't want to experience a premature inflation…
If you choose another inflatable PFD make sure it has 33.7lbs of bouyancy and AN INTEGRAL SAILING HARNESS!  The harness is the most important part of the PFD!
Inspection
Make sure that your PFD holds air.  This video shows how to inflate your PFD without using your automatic inflation charge saving you $30-$70:
Inflate it, make sure it holds air and look it over for signs of failure.  DO NOT TRIGGER YOUR INFLATOR WHILE YOUR PFD IS INFLATED!  From the Mustang Survival documentation:
WARNING: Use only a previously fired hydrostatic inflator to perform this test. DO NOT test with a fully armed hydrostatic inflator as double inflation may occur, possibly resulting in cell damage.
"Cell damage."  That is code for "explode".  Don't explode your safety gear.
Labelled with your name:
Your PFD should have your name on it.  They don't need to be able to read it from a rescue craft.  I wrote mine on the white tags on the back in permanent marker.
Crotch Straps:
Universal Crotch Strap, exceeds ORC Specifications.  These are not a part of your sailing harness and don't need to support 4500lbs.  They are just to hold the PFD down so you float higher in the water.
PFD Whistle:
Your Mustang survival PFD has one.  If you don't have a mustang survival PFD check and see if one is built-in to your PFD.  Or just buy an extra loud whistle, such as this Plastismo emergency whistle, and put it in your PFD's pocket.
Waterproof PFD Light:
The Mustang Survival vest doesn't have a built-in strobe light.  Get one and attach it.  I like the Auto HemiLight3 (affiliate link) because it will attach to the strobe attachment compartment on my PFD.
Personal AIS Beacon:
This is the newest addition to the offshore racer's safety kit:
After 1/1/2018, each life jacket intended for regular use while racing (one per crewmember) shall be equipped with an AIS personal
crew overboard beacon.
This AIS device is stored in your life jacket and is activated manually or automatically once your life jacket inflates.  It transmits an AIS signal (using line of sight VHF frequencies) to that boat so the MOB position shows up on the boat's chartplotter.  This is another assist for finding the MOB (in addition to the strobe and whistle).
Our skipper picked up a group order of the McMurdo Smartfind S20 to meet this requirement.
Tether:
All of the gear above is stowed inside of your PFD/sailing harness.  This is the first stand alone item; you tether is not permanently stowed within your PFD.
Your tether and the harness integrated into your PFD are the most important personal safety items.  Don't skimp on either of these.
3.1.4 – Personal: Each crewmember shall have a safety harness and compatible safety tether not more than 7 feet (2.13m) long with a minimum tensile strength of 4500 lb. (20kN). The tether shall have a snap hook at its far end and a means to quickly disconnect the tether at the chest end.
"Snap Hook": They mean a quick release shackle.  It looks like this: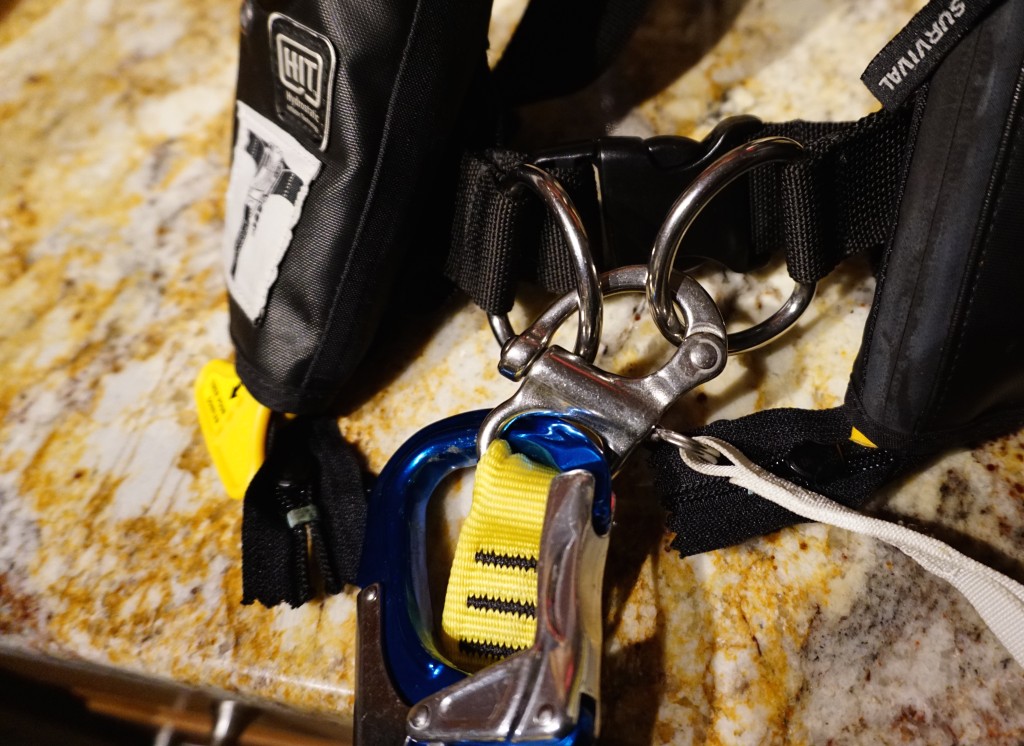 The D-rings are meant to be held together by the quick release shackle of your tether.  The plastic buckle won't hold 4500lbs: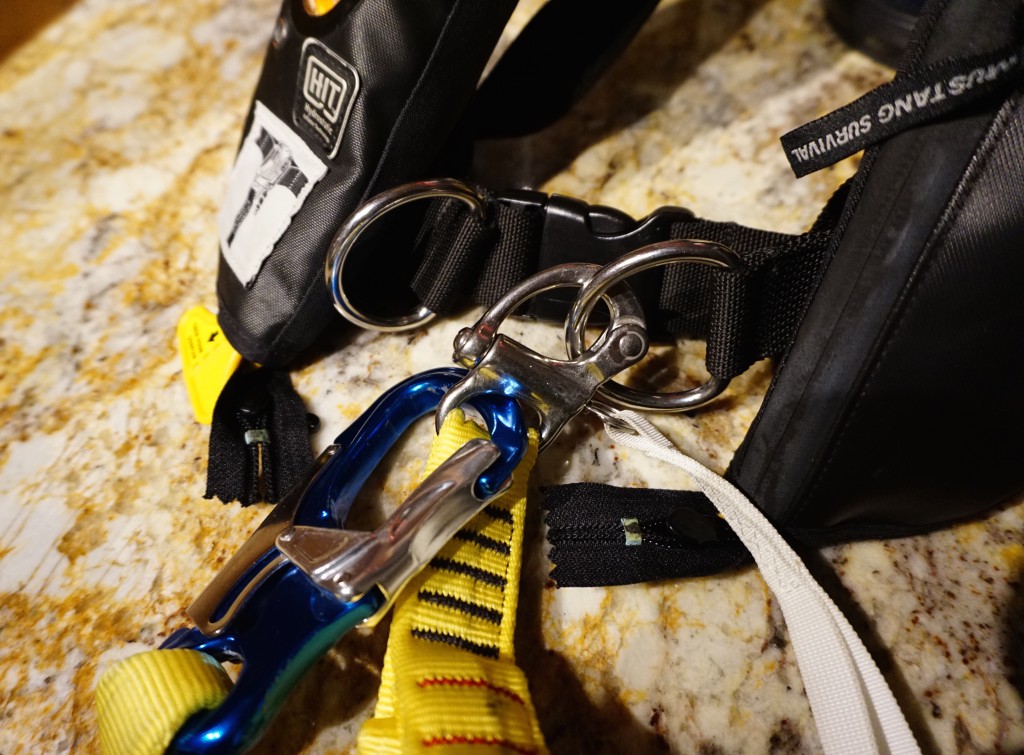 You should always use your tether in a way that ensures the quick release is free to function.  Only attach the quick release shackle on your tether to your PFD/harness.  I've seen so many people do this, presumably because they're working toward a Darwin Award:
DON'T DO THAT!
In the pictures is my West Marine Double Safety Tether.  The double action safety hooks are the easiest to use and least "pinchy" that I have ever used.  I suggest a double tether so that you can move attachment points without ever being un-clipped and clip in more securely if you're close to your attachment point.  I strongly recommend this tether.
Headlamp/Flashlight:
3.24.2 – Lights: A boat shall carry a watertight flashlight for each crewmember with spare batteries in addition to the above.
They say "watertight" not "waterproof".  But they say the boat must be "watertight" as well.  I recommend the Black Diamond Storm Headlamp.  It's the only submersible (IPX-67) headlamp with a red light on the market that I am aware of.
Having two submersible lights attached to your person if you go overboard at night seems like a good idea.  A better idea is not to go overboard.
Use Select Gear!
3.2.3 – Lifejacket and Harness Use: It is strongly recommended that crew members wear a life jacket and harness while on deck from sunset to sunrise, during rough weather and when sails are being changed or reefed
That's the minimum.  We're racing which means we hope to be sailing hard the entire way from Marion to Bermuda.  Default to being clipped in whenever you're on deck, transitioning onto the deck and moving around the deck.  Maybe you can come up with a good reason not to be clipped in.  So far the only valid reason I've heard is "I want to be chewed out and I don't want to be invited to go sailing anymore".   You'll definitely get your wish.
The goal is to use the harness and tether constantly and never need any of the other gear mentioned on this page.  Let's work toward that!
If you'd like more information my favorite resource is the Marion to Bermuda inspection checklist.